Rebuilder is an established building company, operated by two experienced, senior professionals within the building industry. At Rebuilder we have recognised the need for complete contract building services within the south eastern suburbs of Melbourne, Victoria and provide complete contract building services to a range of building sectors. Our Services include insurance warranty building works, 24hour emergency make safes, maintenance, renovations, extensions and new home builds. 
The founders of Rebuilder have collectively overseen the construction of 1,000 homes and provided warranty building works, maintenance and 24hour emergency make safes for a range of companies, including Crawford & Company, Youi, Tandem, QBE, Elders and CGU to name a few. 
It is on this expertise that Rebuilder is founded – industry know how, dedication to high quality service and comprehensive facilities maintenance.
Rebuilder provides professional and complete building management services to the insurance sector and general public within south east Melbourne, specialising in customer satisfaction and quality workmanship.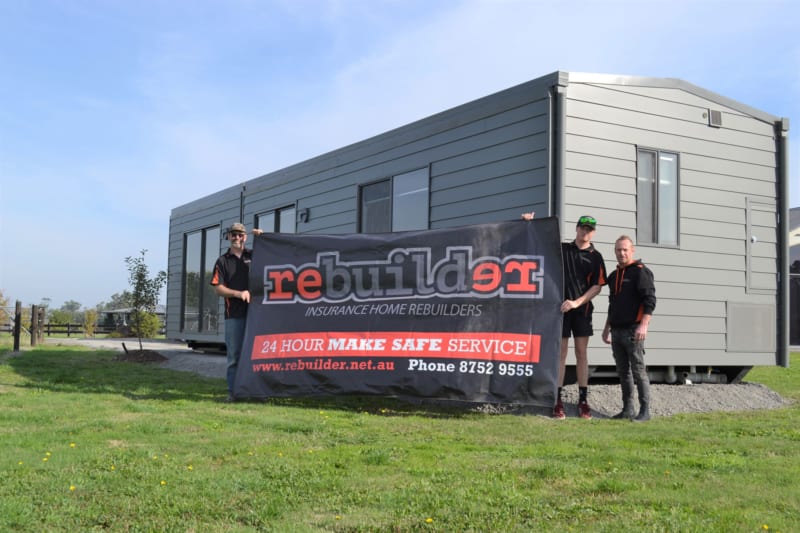 Vision statement:
Rebuilder strives to provide a high-quality building service solution
Mission statement:
"Rebuilder is dedicated to delivering simple, easy building and maintenance management services"
Throughout our collective experience, our services have benefitted a wide range of industry sectors, including:
• Insurance Companies
• Insurance Brokers
• Residential Premises
• Commercial Properties
• Health Facilities & Hospitals
• Aged Care Services
• Schools
With over 50 years of combined experience across several industries, our portfolio includes commercial property and the construction plus maintenance of over 1,000 homes.  Our client base has included:
• Crawford & Company
• CGU Insurance, Allianz Insurance, West Farmers Insurance, Zurich Insurance, Suncorp Group, Elders Insurance, Youi Insurance.
• Nu Kon Builders
• RMS Homes
• Royal Freemasons
• Tandem Property Services
• Private Clienteles
Quality Assurance & Compliance
Rebuilder has a safety and compliance focus. Our processes are designed to maximise efficiency without compromising on safety or service quality.
We deliver on our commitment to a safe working environment through:
• Compliance with relevant legislative and regulatory requirements
• Safe Work Method Statements
• Regular consultation with employees regarding safe working processes
• Continuous improvement
• In-depth staff training and support
• A comprehensive OH&S Policy
Insurance Policy Details:
• Construction Works Insurance
• Builders Indemnity Insurance
Licences:
• Building Practitioner Registration Number : CDB-U 52268
• Master Builders Victoria Member : MEM00000528518